World Vegetarian Month | Vegetarian Recipes for Babies
Posted on October 11 2021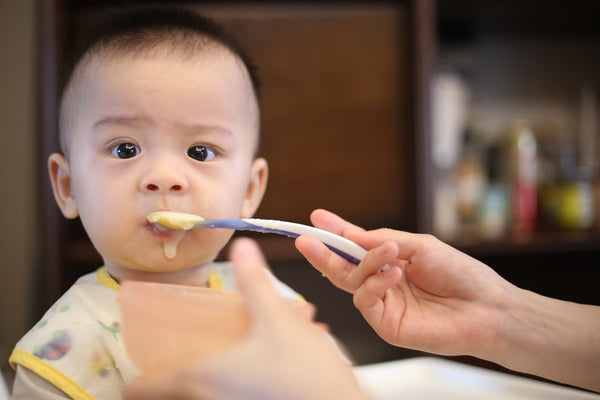 Vegetarian Day is annually observed on 1st October around the world "To promote joy, compassion and life-enhancing possibilities of vegetarianism."  It brings awareness to the benefits of a vegetarian lifestyle. 
Our little one's diet is extremely important as they're still developing. Therefore, for their overall growth we would want to give them a healthy nutritious meal 
On the occasion of Vegetarian Day, we bring to you some healthy yet tasty vegetarian baby meals for your little ones:
*Note* The recipes mentioned below can be given to babies who are 6 months plus. 
1. Mashed Potato, Carrot, and Garlic
Ingredients: 
1 carrot, peeled and sliced

2 small potatoes, peeled and sliced thinly

2 small cloves of garlic, peeled and sliced

Optional - 1 handful of grated cheddar cheese
  Instructions:
Steam the carrots, potatoes, and garlic slices for about 30 minutes or until soft

Mash until you get your desired texture. Add in cheese if using and stir through to melt it

If the mixture is thick, add in some steamed water (broth) or some milk to loosen it
*Note* You can introduce garlic at around 6 months. The recipe is not a complete puree so, you can try using this at 8-9 months or how your baby progresses. Or to make this recipe more smoother and runnier like a puree, blend the carrots after steaming and finely mash the potatoes (Blending the potatoes can lose it's starch and make them gummy) add the cheese and stir through to smoothen it and melt the cheese.
2. Dal Recipe 
Ingredients:
1/2 cup of dried yellow split peas/ Chana Dal

1/2 of a sweet potato, chopped into small chunks

1 small tomato, deseeded and chopped finely

1 clove of garlic, minced

1/4 tsp minced or grated ginger

1/4 tsp turmeric

1/2 tsp garam masala

1.5 cups of water
 Instructions:
In a saucepan, heat some olive oil or coconut oil. Add the garlic and ginger and cook until fragrant

Add turmeric, tomato, sweet potato, garam masala, and dal along with ½ cup water

Simmer for up to 1 hour or until the dal is soft and the sweet potato is melting in. If it seems to be too thick, add another ½ cup of water. 

Serve it or you can puree it for a smooth texture
 3. Makhana (Fox Nuts) Instant Mix Powder
Ingredients:
1 Cup Makhana/Puffed lotus seeds/ Fox nuts, Sliced

5 Cashews

1 Cardamom
Instructions:
Dry Roast the Makhanas in a pan until crispy yet chewy. 

After the Makhanas are done, dry roast the cashews in the same pan for about 30 seconds

Blend the cashews, makhanas, and cardamom in a mixer grinder until it forms a powder. Cool it and store it in an airtight container

The taste of this might taste bland so you can serve it with a fruit puree you like, or milk. 

In a ½ cup of Powder Mix, Slowly add some hot water and give it a mix until smooth

Add a sweetener to your liking, for example, banana puree or mashed bananas. You can also add ghee at the end and give it a mix and serve
 4. Avocado Puree
Ingredients:
1 medium sized ripe Avocado, Remove the seed and the skin

1 medium sized Banana chopped

Milk
Instructions:
Blend the avocado and banana together until smooth

Add milk and mix to adjust the consistency to your liking
Which recipe would you try? ;)
Recipes from: happyveggiekitchen.com