What makes furniture child friendly?
Posted on November 15 2022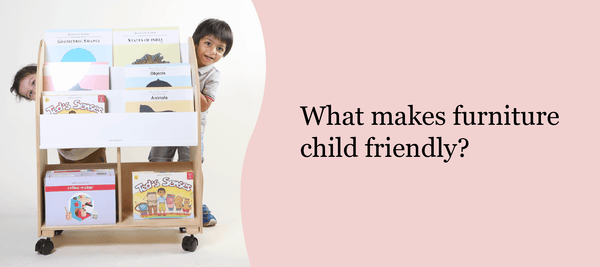 When you have a child at home, you suddenly realize all potential threats that the home environment presents to your child. Since it isn't possible to change all the furniture and fixtures around the house once you have a child, below are some pointers that will help you ensure that at least the furniture you buy for your child is child friendly. These specially come handy when you design your child's nursery / room where your child will be spending majority of their time. Experts also believe that when spaces are designed keeping the child's needs in mind, they stimulate their physical and mental well-being. Children are playful and have a bright imagination but at the same time they are also full of energy. Keeping this in mind furniture that is designed for children should encourage play, creativity and help kids explore in a safe environment.
Features to look for  –
Rounded Edges - Your little children are brimming with energy, and for them furniture looks just as tempting as a new toy does. Unfortunately a lot of furniture that's available in the market today come with sharp edges, some dangerously close to your little one's eye-level. A child-friendly feature of furniture would be rounded edges, which prevents injuries brought about by sharp edges.
Stable & Durability – Children love to climb and explore every nook and corner and for that very reason furniture you choose for your child should be stable and durable. You don't want the chair your child climbs on toppling down with him which is why the material the furniture is made with is very crucial. Also furniture is not something you change every few months so ideally the furniture should be long lasting and durable along with it being light weight and compact so it can be moved from one room to another.
Free of Chemicals – An extremely crucial feature that every parent must check for before purchasing children's furniture is that it should be free of toxic chemicals. Children's furniture just like baby gear should be devoid of any harsh chemicals in the material used to make it as well as the paint or polish used to coat it.
Below are some furniture pieces that are ideal to decorate your child's room or nursery –
Kid's Wooden Table – The ideal wooden table from Brainsmith that your little one can call their own! Whether they want to play, read, study or eat, this one not only becomes a multi-purpose table, it also blends in with all kinds of furniture. Easy to assemble and super sturdy, this is sure to become a child's most favourite spot to do everything they want! The square table for kid's activities is made of solid rubberwood, is durable and sturdy for long-lasting use and has rounded edges. It is light-weight and can be placed at any place indoors.
Wooden Stacking Chair - Light and sturdy, this colourful wooden chair by Brainsmith is a valuable addition to home, school and play areas. The seat of the chair is adjustable to two different heights for the comfort of little ones. With a beautiful design, this chair has no sharp edges and very smooth surfaces made of solid rubberwood and non-toxic paints and materials. The chair It has back support to keep kids comfortable and is topple-resistant.
Kid's Wooden Bookshelf - This wooden book shelf is ideal for kids rooms and has smooth surfaces and no sharp edges. The material and paints used to make this kid's bookshelf are non-toxic. Along with 3 shelves there are 2 large sections under the book shelves which can be used to store toys or more books. The design of this children's bookcase encourages independence and discipline in kids early on. This book shelf for children has 4 wheels allowing one to move this from one place to another easily. The wheels have a locking function to ensure the bookshelf is stationery and kids don't get hurt.
Toddler Step Stool - It's time for your toddler to come right up to your level with this wooden step stool. With two levels, kids can reach the washbasin, kitchen counters, and tables. It's great to use for potty training too! Made of durable wood and sturdy design, this wooden step stool for toddlers and children is a valuable addition to your home.
My Dollhouse Bookcase -  My Dollhouse Bookcase by Brainsmith is a bookshelf in the shape of a dollhouse and is win-win for every child's room. It has 5 compartments in three levels and can be used to store toys, books, puzzles, and stuffed friends. Made of durable wood and finished with a non-toxic coating, this beautiful case can also be used as a dollhouse to play. It is fairly light for a parent to move and comes with leg stands. It is topple-resistant and is completely child-safe.
My First Slide - The most favourite place in the park can now be in the comfort of your home - a wooden play slide. Little children can learn to climb up, balance and sit before sliding down into your arms. Our slide is built for safe playtime for children. Made of durable wood and finished with non-toxic colours, it's sturdy and allows children to play freely. Designed to keep a child entertained, this wooden slide for babies is sturdy with a strong volumetric base to keep it from toppling.