Ways to use Black and White Infant Cards
Posted on March 23 2018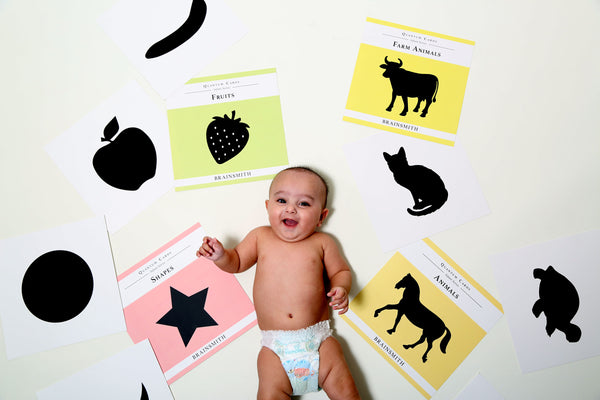 The arrival of a newborn baby brings with it heaps of happiness and joy, coupled with the surrounding oh-so-cutes, onesies that can be a part of baby's fashion week and adorable sighs! But this occasion isn't just about all this. Newborn babies are a plethora of opportunities - to learn, to observe and to just bask in the glory of following a human's growth! Don't you think so too?
A human brain is the most magical organ that develops to 90% of its adult size by age 5. And what you feed the brain during these years will define how the rest 80 will turn out. That said, it is a known fact that newborn babies have an underdeveloped vision while in the womb and their visual sensory pathways require constant stimulation for effective and timely brain development.
Research suggests that babies can only see the colours black, white and gray until the first few months after birth. And maximizing on this opportunity can ensure a newborn baby achieves the required visual stimulation to fully developed eyesight. Black and white infant stimulation cards, also known as visual stimulation flashcards are one of the most common and effective ways to stimulate the vision of newborn babies. But, we believe, they're quite underrated because of their potential to be used in innumerable ways and provide countless opportunities to that eager newborn baby.
We share with you our most favorite ways to use high-contrast or black and white infant cards.
1. Create a gallery for your newborn baby



Newborn babies are inquisitive tiny humans and are constantly moving their eyes. Your baby's nursery doesn't have to be only pinks, blues and pastels. High-contrast or black and white flashcards add the quirky, yet necessary element required for your baby's visual stimulation.
Create a fun layout on the wall, like you'd do with pictures, right next to your baby's crib, changing table and everywhere else your baby spends time. You can also choose to pin black and white flashcards to a string in your baby's line of sight to give the nursery a quirky feel.
2. D.I.Y. Nursery Mobile

You would have received a number of nursery mobiles as gifts for your newborn baby. And some of them may be the cutest things you've seen. However, your baby wants something exciting, engaging and one he/she can actually see. That's when your craft skills will come in handy. You can create your baby's very own nursery mobile with black and white flashcards, to hang on the crib.
You need an embroidery hoop or a hula-hoop, cover it with black ribbon and distend the black and white cards from strings, parallel to the hoop. The best part about making this yourself is that you can change the cards whenever you like so your baby won't get bored!
3. Display black and white cards when baby is awake



Perhaps the most amount of time your baby spends is on the bed. Capitalize on every minute that your newborn baby is awake for, by giving that little bundle of joy opportunities to grow. Display black and white picture cards on an easel when the baby lays on his/her side.  Make sure to switch sides of the easel so the baby gets a chance to turn in both directions.
When the baby is doing some tummy time, whether on the bed or during their daily massage, spread black and white picture cards around the baby. Make sure they are directly in their line of sight.
4. Visual play



Holding your newborn baby is not just the most beautiful feeling for you but it is also the most magical for your baby. Your baby feels secure and loved and it is the best time for you to observe your baby. Since your baby can only see about 8 – 12 inches away, keep your face close to the baby and observe them trying to catch your eyes.
Keep high-contrast or black and white picture cards on you to show your baby and watch them use their eyes, throw a smile or two at you and remain calm. Their first major movement will be the ability to turn their heads. Make the most of this by using black and white cards and give them plenty of opportunity to use their eyes.
5. Use black and white picture cards as

flashcards





While your baby is lying, use the black and white picture cards as flashcards. The human brain is just like a sponge – the more you contribute to its development, the more it will absorb. And the more your little one is exposed to in the earliest months, the higher he/she will retain.
These black and white picture cards can be used not just for visual stimulation but also auditory stimulation of your newborn baby. Use them as flashcards while announcing each object on the card. It becomes an interesting activity time for your little one and enhances visual memory, cultivates object recognition and aids in brain development.
These black and white picture cards have the magical ability to keep your newborn baby engaged for long periods of time, soothe them when they're crying and keep them calm and focused during the day. Here are a few more ways these multi-purpose black and white picture cards or flashcards can be the highlight of your newborn baby's development:
While reading individually or to your newborn baby, stick a black and white picture card to the back of the book so the baby can continue seeing that while you read.
Stick a couple of black and white picture cards in the car, on the seat your baby is facing towards. This way babies who don't like car rides can remain calm and you as a driver can concentrate on the road.
Attach one black and white picture card to the front of your shirt when baby is facing you.
Tape black and white picture cards to your newborn baby's activity gym.
Every movement a baby makes – physical or sensory, is a milestone in itself. And it is our fundamental responsibility to provide innumerable opportunities for the baby to develop optimally, learn and have fun. Every action we take leads to a development milestone in your baby. Here's to making every moment count!
Images are all from a baby's point of view.