Outdoor Activities That Can Be Played Indoors
Posted on September 14 2021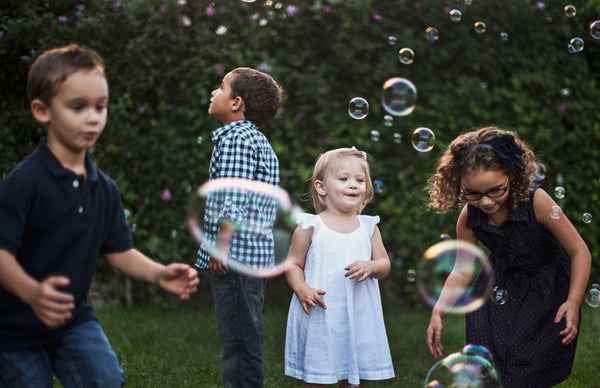 The Lockdown has been quite hard for most of us…But kids have probably been the most affected by it. It hasn't been easy for them to stay at home all day, without their outdoor activities, friends and playdates. 
Indoor games don't just mean sedentary play. Like outdoor activities, there can be endless indoor activities as well that involve physical movement. We've got you covered!
Here are 6 outdoor games which kids absolutely love and can be played indoors too: .
1. Hide & Seek
©Unsplash
So many times you end up becoming a kid yourself while playing this game with your little ones. Garages replaced with Bedrooms, Parks and Gardens replaced with Windows and Balconies! You and your kids will still have just as much fun! 
Variation
To make this game more fun and interesting, the players can use Musical Toys when hiding and the seeker has to then find the players with the help of the sounds produced from the musical toys. 
2.Scavenger Hunt
©Unsplash
This is one game people of all age groups enjoy playing. There are tons of great readymade indoor hunt clues available online. This is also a great way to inculcate problem-solving skills at a young age. Add some basic ground rules to make sure your kid doesn't end up getting hurt with all the running and excitement. 
Variation
You can use wooden blocks from a Shape Sorting Board as treasures. They come in different shapes, sizes, and colours which will help in formulating better clues for your little ones. 
3. Mini Races
©Unsplash
This is a great way to keep your kids physically active while making it fun and exciting for them. Create your own Sports Day at home with fun activities like Lemon and Spoon Race, Animal Races, etc .
Variation
To up the level of fun, a rule could be to sing a song/rhyme while completing the race or use Toys with Strings  in the race and see whose toy wins
4. Hopscotch
©Unsplash
Some masking tape and a chalk/small stone to throw- that's all you need to get your kid all excited and busy for at least an hour! (Make sure you don't end up taking all the turns :p) 
Variation
You can place Wooden Fruits and Vegetables in each block and the little one has to collect each fruit/vegetable as they hop from one block to another. 
.5. Obstacle Course
©Unsplash
Bring out the lil ninja in your babies with this fun exercise! Create a furniture hurdle course across the house and see your tiny tots crossing every hurdle (in life) with a broad smile (and a high jump) 
Variation
You can include different obstacles apart from furniture. For example, use a pretend play toy like the Clothes Drying Line and place your toddlers clothes on the side. They will have to hang their clothes on the line and then move to the next hurdle.
6. Bowling
©Unsplash
Use plastic bottles for pins, and bowl with a rubber playground ball or a sponge ball or a beach ball. A mini bowling alley for our mini people. This will keep them and you busy for hours ;) 
Variation
Instead of plastic bottles, you can also use Wooden Blocks from your little one's toy collection for a colourful bowling game!