7 Children's Books a Parent should read to their child
Posted on May 05 2017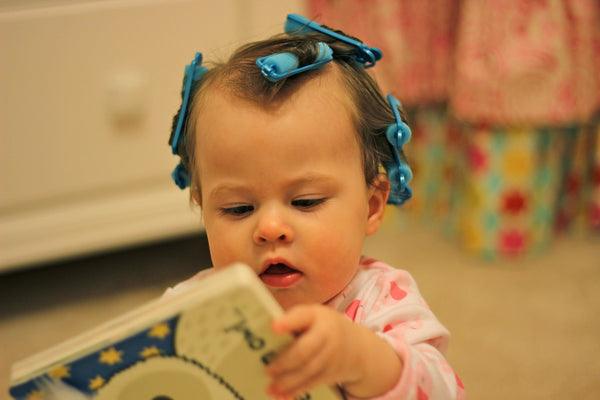 You hand over a book to your little one for the first time. They don't know what it is but they're curious; they know it's safe because you have given it to them. They think it's a game to play with so they try and use their hands and might to twist it and see how this can turn into a game for them, but then nothing happens, and then they learn to open the book. Your little one has entered into the world of books and it is on you to ensure that their magical world of books is filled with stories, imagination and beautiful illustrations :)
This week America celebrates Children's Book Week and we would like parents to know which books your little one should read. Our Founder and Mompreneur, Tejal Bajla hopped into books with her son when he was 6 months old and there was no looking back for either of them. She tells us her best recommendations for Children's Books.
Age: 0 – 2 years
            Toddlers during this phase easily get attracted to colours and bigger objects. Where's Spot? By Eric Hill is Tejal's first recommended book. It is a great lift-the-flap book which makes for an interactive reading session. The illustrations have objects children are familiar with and an element of fun and mystery make this a perfect read. 
A Very Hungry Caterpillar by Eric Carle is a board book with vivid and colourful illustrations spun around a simple, yet hopeful storyline. With its finger-sized holes and perfectly-cut pages to explore, this is a richly satisfying book for children.
Age 2 – 4 years
            Kids become little explorers at this age and want to perceive everything with touch. The Gruffalo by Julia Donaldson teaches children how to be patient and understanding. It is a picture book with lovely illustrations and a delightful rhyming story of a little mouse and a lovable scary-looking monster. 
Another recommendation has to be We're Going on a Bear Hunt by Michael Rosen and Helen Oxenbury. This book is a perfect mix of rhyme and repetition with a good measure of suspense. This is a read-out loud book which allows children to become part of the story and open up a world of adventure for them.
Age 4 – 6 years
            Children begin to experience new things like school, peers and their interests. That's why Tejal recommends My Space, My body by Roopa Pai. This book touches on the concepts of body awareness and personal space through two linked stories featuring the twins Taka and Dimi. It tackles an important topic of Body Awareness with an impressive light of touch. 
Oscar and the Magic Table by Keith Harvey is about a little boy who forgets his table manners but is reminded of them with the help of an extraordinary friend. This is a wonderfully illustrated book to teach a child about table etiquette. 
Parents overlook Art as something a child should learn for their fear that their child will not succeed in life. Raza's Bindu: Ritu Khoda and Vanita Pai balances the visuals of an artist with the concept and text to grab a child's attention and more importantly, hold it. Guided by a playful, lifting narrative, aided by intelligent creative exercises, the book charms both the child and the art-resistant adult.
Books are another world altogether and children need to know this world, be part of it and create another world inside these for themselves. Get hold of these books for your little ones and let the magic unfold!