Christmas Gifting ideas
Posted on December 24 2021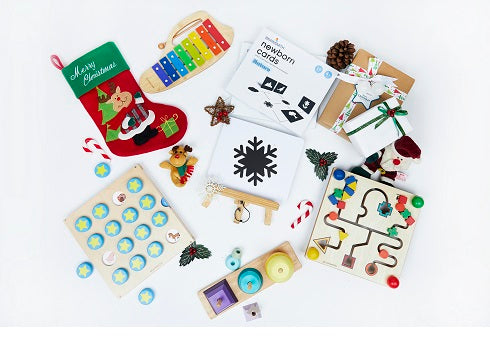 It is finally that time of the year again - the season of gifting! A.K.A. Christmas.
It is the most wonderful holiday of the year. Including so many fun activities like Tree shopping, decorating, baking, and most of all, gifting our loved ones.
The last two years had been difficult for almost all of us due to the coronavirus pandemic, especially for our little ones. Some of them were born during this time and have never really seen the outside world and the first birthdays could not be celebrated as we'd hoped. 
Make this Christmas the most happening for our little munchkins by gifting them amazing environment-friendly wooden toys that focus on building important skills and help in overall development.  
Here are a few gifting ideas for our little ones:
Pretend Play Toys
Pretend play helps our little ones understand the environment around them in a better sense. When they engage in pretend play, they are automatically experimenting with social and emotional roles of life. With pretend play, the possibilities are endless. This helps a child be more creative and imaginative.    
Quantum Cards
Quantum Cards are interactive flashcards for little ones that stimulate the auditory and visual pathways and boost brain development in toddlers and children. They are large in size and can be used in numerous fun activities. 
Newborn Cards
Newborn Cards are high-contrast black and white flashcards for infants that help in stimulating babies' eyesight. Newborn babies don't develop their eyesight completely at birth. They develop over the course of the first four months. Therefore, at birth babies are unable to see colours other than black, white and grey. The high-contrast black and white cards are probably the first thing they see and they look at them intently.
Wooden toys
Wooden toys are designed for little hands to play and learn important skills. They are designed keeping in mind a child's ability to learn skills. Each wooden toy does not just educate, but also entertain children of all ages. 
Pull-along toys
Pull-along toys help in gross motor skills and also encourage kids' to be imaginative. They also help in problem-solving and gross motor skills. 
Story Books
Gifting Story books has been an old but gold tradition. Maintain the tradition with our set of five story books - Ted's Senses for little munchkins to learn about their sense organs in a fun way!