7 ways to celebrate Diwali with your children
Posted on October 18 2017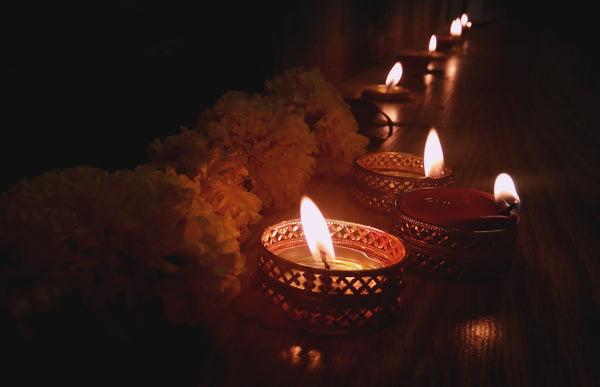 Diwali – everyone knows it as the festival of lights, as the victory of good over evil. Most homes in India are lit up beautifully, rows of lamps lining the door and windows. Apart from brightly lit homes, families also get together, wearing new clothes, exchanging sweets and gifts. Laughter and warmth ring far and wide. In the days leading up to Diwali, Hindus consider it auspicious to clean up their homes and buy new utensils or gold, as per tradition. Diwali is celebrated over 5 days, each day holding a beautiful significance!
As much as Diwali is a time for celebration and relaxation, every year, school children are in for a treat with a leisurely Diwali vacation, much like a smaller version of their summer holidays. Parents tend to be in a fix, because keeping a child occupied at home is no easy task. With Diwali being just around the corner, we thought it would be exciting to share some simple and doable ideas for you to spend Diwali with your little one(s), while also sharing with them the importance of this celebration.   Let's begin!
Watch the "Story of Diwali"

Before you begin indulging in fun, creative activities with your little one(s), how about we do a quick recap about how Diwali came to be celebrated in India? Among the many mythological stories related to this beautiful festival is the story of Ram and Ravana – a timeless classic.
Watch this short 4-minute video with your kids, and relive the memorable mythology of the Ramayana.
For some of us adults, this may even be the first time someone has explained this popular mythological take on Diwali so clearly and interestingly!
Make a flower Rangoli
Of late, there's been much concern over the use of Rangoli (and Holi) colours and the toxins in them that may be unsafe for your little one's skin and health. But what's a Diwali without a Rangoli, right?! Well, we've found a way around it, so that you can enjoy and celebrate this lovely tradition, while keeping you and your children safe.
An easy and prettier substitute for colours, is flowers. Pick up some fresh ones from your local market and make sure you take your kid along. Let your child choose the colours he/she feels like. This would help enhance their creative and decision-making skills.
Decorate the entrance of your home (either outside or inside) with a beautiful flower Rangoli. Use a simple pattern in a free hand style or find one of your choice from the Internet. With flowers and kids, it's best to go spontaneous in your designs! The best part is you can use whole flowers like marigolds, tear off petals from the whole flowers, and also use the green leaves to add a variety of texture and colour.
https://theeducatorsspinonit.com/2016/10/flower-rangoli-with-kids-for-diwali.html
Paint your own Diyas
In the days leading up to Diwali, you will find beautiful earthen diyas being sold on every nook and corner. The traditional diyas were always earthen and simple. Painting them can be loads of fun, and a great way to keep your kid(s) occupied.
To get started with this simple activity, you would need clay diyas, paintbrushes, acrylic paints, stones/gems, glue, gold paint for outlining/border. Again, these are simply suggestions and you can go as complex or as simple as you like. Here, the focus should be on your child's freedom to explore his/her creativity!
This is also an activity where you can gather your kid's friends and get them plenty of materials, and let them go bonkers with their artistic side. Remember to spread newspaper on the ground or the table, so that paint and glue does not splatter anywhere. Also, supervise the children if they're using glue to stick decorative stones or sequins.
http://thecraftables.com/diy-diyas/
Say NO to Pollution
Most older children today are well-versed with the effects of noise and sound pollution that result from bursting fire crackers during Diwali. Schools everywhere are inculcating the good habit of saying no to firecrackers and educating children on saving the environment. Even animals like dogs, cats and birds get very affected by the sound of fire crackers, and the poor creatures have no way of expressing it. It is in everyone's best interest to avoid lighting crackers that release too much smoke and noise. Some families, to keep the tradition going, encourage the lighting of 1 or 2 sparklers (or phuljhadis), which may be okay if you really want to.
If your child is too young to understand or is not yet aware of the ill effects of bursting crackers, sit with them and explain this to them in a simple manner.
Say Happy Diwali in a collage
Collages are so much fun! All you need is waste paper from old newspaper or magazines, which most of us tend to keep for a while. You need not even use scissors. Just tear up bits of paper and have fun sticking them. Keep an eye out if your child is using any type of adhesive or glue. Trace out "Happy Diwali" on an A4 paper, and stick colourful bits of paper inside the lettering. On finishing it, your child will have created his or her very own greeting. It's now ready to be gifted or framed and put up on a wall full of memories!
Cook up some Diwali delicacies
Any festival in India is celebrated with a lot of gusto and happiness! As Indians, we also love and adore our food. With India being such a diverse nation, with multiple cultures and communities, it's no wonder our children too, grow up savouring delicacies on the different festivals. If your child is fond of cooking or even eating, the days before Diwali would be a great time to indulge his/her secret MasterChef. Along with your kid(s), cook/make some tasty Diwali snacks and mithai, which are easy to make at home.
Many traditional households in India make their own snacks or "faraal" such as chivda or chakli. If you're an expert at this, let your child be your sous chef, and enjoy this time with them. But always remember, safety comes first in the kitchen, especially if you're using a gas stove or any other appliances for making the dish. Keep an eye on your child, and list out the simpler things they can assist you with.
If your family has a sweet tooth, try your hand at making simple rice/vermicelli kheer (which requires such few ingredients and are flavourful in their taste!) or pudding.
Make Origami lanterns
Indian traditional kandeels or lanterns have always been popular, for as long as we know. Originally, the lanterns were simple and handmade mostly from paper. Then as we evolved, so did the techniques and materials. But would it not be nice to go back to older times, and teach your child the simplicity behind making paper lanterns? But we would like to suggest a twist on this! Instead of making the usual lantern shapes, try some Origami art - a lovely fusion of Japanese and Indian cultures. Find some nice colourful paper.
For those more adventurous, you can also buy beautiful textured handmade paper or glitter paper. Sitting with your child, go ahead and cut, fold and string paper together in shapes of flowers and stars. Plenty of design tutorials are available online if you need any help.
Diwali holidays no longer mean being cooped up at home with a child whose energy may not complement your busy schedule! If you're taking a family holiday, that's wonderful. But if you're home, and want to gently educate your little ones about this grand festival, which has its roots so deep in our history and tradition, there's no better way than indulging in activities like those suggested above.
Team Brainsmith wishes you and your family a very Happy & Beautiful Diwali!
Author: Sneha Bhat
About: Sneha is an independent writer and book editor who loves good food, good design and a fantastic cup of tea. When she's not telling stories, she enjoys yoga and reading.