6 Reasons why you should visit FullyBooked - Children's Lit Fest
Posted on June 08 2016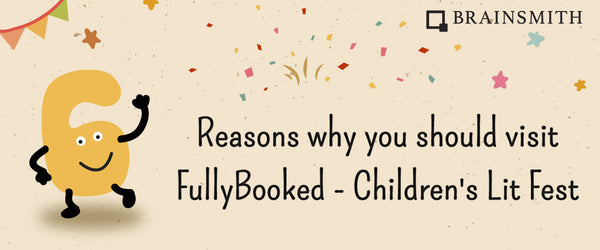 The wait is finally over! FullyBooked is curating a Children's Literary Fest at Kids club, Khar on 11th & 12th June from 11am-6pm. It provides a unique platform that drives the interest of children towards the joy of reading, creativity, imagination and critical thinking. This festival has continued to grow over the years and being a part of this event is rewarding, fulfilling and definitely exciting! Bring your kids to this fun-filled event because there is something for every child! These are a few activities your children can engage in –
Music and Dance
Sing and groove along to some tunes of Western and Indian Classical Music! Learn various types of dance forms from the best of Teachers. This is a fantastic way to introduce your kids to Music and Dance which will encourage imaginative movement and creativity. Entertainment guaranteed!
Yoga and Martial Arts
The practices of Yoga and Martial Arts have more in common than we realize. They have evolved out of Asian roots and create an environment of respect, discipline & knowledge. Calm your mind while practicing Yoga and pull together some kicks from Martial Arts which boost your flexibility and provides benefits like physical and mental discipline as well. You just can't miss this one!
     3. Art and Craft
Do you have a crafty kid? Are you looking for fun, simple and effective activities for kids and things to make? You've come to the right place! Nurture his/her creative spirit with these fun ideas. You'll be giving your child the tools he/she needs to spark imagination and creative play. Craft on!
Cooking and Baking
Get your kids cooking & baking with some delicious recipes that are quick, easy and affordable! Let your kids have some fun in the kitchen and see them make everything from muffins to main meals. The recipes are guaranteed to keep them excited about creating a tasty masterpiece!
Reading and Games
Let your children experience the joy of reading as they immerse themselves in a marvelous world of stories! Find a wide variety of fun stuff – puzzles, racing games and educational games for kids to learn and play. Board games may be old school, but it's still a super- fun and challenging way to teach kids about following rules.
Shopping
Explore the shopping section by filling your child's library with colourful encyclopedic Quantum Cards from Brainsmith. You and your kids can also check out the stalls to shop for Indian and International Books, premium stationery, cool toys, learning décor, subscription boxes and multiple learning programs.
So go ahead and don't miss this opportunity! Hope you've got your tickets? If not, book now here or at Kids Club.
See you there!