10 Best Wooden Toys For Your Children
Posted on April 07 2022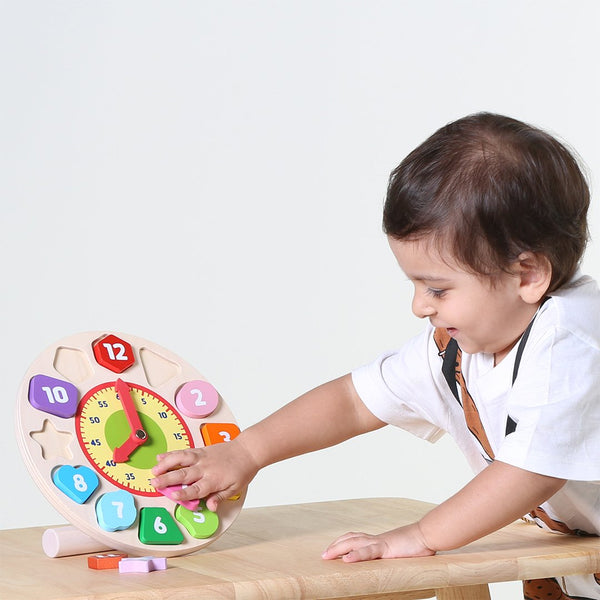 Wooden Toys - Cute, Safe and Long-lasting. This is what as parents, we expect when we purchase wooden toys. They are an important part of our little ones play time.
Brainsmith's collection of wooden toys are well-designed and open-ended and teach important skills like problem-solving, decision-making, cause and effect among others.  And they are loved because they are adorable, free from chemicals, NO sharp edges and most importantly, great for children. 
Here are 10 best wooden toys that you should invest in for your child:
1. Spic and Span Set
This cleaning toy set for toddlers is a perfect toy to encourage the love little ones have for cleaning and inculcate this lifeskill from childhood. Our little helpers love cleaning so this one is for them to play, learn and have fun. The Brainsmith broom set comes with a stand to hang all the tools and is easy to clean and reuse. 
2. 3D Shape Builder
As the name suggests, this toy creates different shapes with wooden blocks. The little ones can create different structures too by mixing and matching any and every coloured block. This wooden stacking toy is accompanied with a guide to stack different 3D shapes and designs. Kids develop problem-solving skills, hand-eye coordination and fine motor skills while boosting creativity with this open-ended wooden toy.
3. Portable Workbench
Who doesn't love a busy toddler, right! This wooden toy does just that - keeps kids engaged, we promise! This toolkit for kids is designed to develop creativity and allow imaginative play. This toolbox toy builds skills like problem-solving, fine motor, concentration and hand-eye coordination.
4. Building Blocks in Bear Walker
Wooden Blocks in a Bear Walker is an open-ended toy that comes with wooden blocks in different colours and shapes with which little ones can create numerous things, be it a tower, different faces or a fort. This encourages the kids to be more imaginative along with improving their motor skills. The best part is the pull-along wagon which toddlers can take along with them everywhere they go!
5. Paint and Play Kit
The paint and play art kit is perfect for our little artists. It has a brush and 12 colours to use to paint the wooden airplane. These kits build concentration and hand-eye coordination while boosting imaginative thinking and creativity.
6. Wooden Shape Sorting Board
Wooden Shape Sorting Board is an attractive toy for little ones because of it's bright colours and different sized shapes. Little ones can sort between different colours or shapes and even use the board for different activities. A great toy for building motor skills, problem solving, creativity, and recognition skills, this is one of the most important toys that a toddler needs to be able to learn important life skills.
7. Fruit maze Board
The Fruit Maze Board is perfect for little ones who find it a little difficult to concentrate. This is a magnetic board toy where the little ones have to sort the coloured balls in their respective fruit slots with the help of the magnetic pen. Kids are going to be busy for a good amount of time with this wooden toy surely.
8. Cash Counter
If you go to the supermarket with your kids, this cash register is a wooden toy you must include in your child's collection. Pretend play your trips to the market with your kids and watch them learn to communicate better, imagine more and think freely. 
9. Wooden Xylophone
The Wooden Xyophone Toy is perfect for our little musicians. It has real tones and is sleek in design with rounded edges and smooth surfaces. This toy is helpful in learning skills like cause and effect, imaginative, motor skills, and auditory sensory development. The notes on the xylophone can't get better than this, that's a promise!
10. Memory Game
A classic game of memory can never be boring! And the Brainsmith memory game here has 8 games in one board. Whether it's you with your child or siblings, the game of memory is never the same yet always the same amount of fun!