Types of Toys to Invest in for your Children
Posted on September 02 2021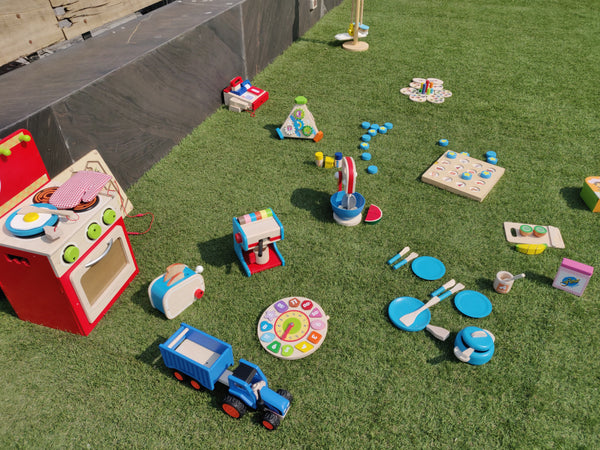 Our little ones are explorers, they love exploring different things as they grow up and all this mostly happens through play. As the experts say, "Play is a child's work". Children are the busiest and most attentive during their play time. Therefore, including play time in a day is of utmost importance. Hence, the toys and play material your child has available to them can shape them in important ways.
It may seem easier to buy toys for kids in the beginning but as you enter the toy store with so many options and skill developing toys, it can get overwhelming very soon. How do I choose which toy is right for my child? Which quality is better? Will the toy interest them? The questions are just endless. 
Here are a few tips on what kind of toys to invest in for your child that will be beneficial in the long run and improve their overall development and simultaneously, grow as the little one grows.
1. Blocks
Toddlers love to build things and take them apart, pull out or put in. Therefore, choose open-ended toys like wooden blocks with which they can play in innumerable ways and leads to imagination and thinking.
2. Shape Sorters/Puzzles
As mentioned earlier, during play children explore different things and this is when they also practice new skills. Toys that encourage them to figure something out on their own or with a little assistance build their logical thinking and problem-solving skills. Toys like shape sorter boards or puzzles are a good example. They also help in developing spatial relation skills (understanding how things fit together), hand-eye coordination and fine motor skills.
3. Pretend Play
As our babies grow, their creativity also starts to take off as they are able to take on the roles of someone else like a doctor or a teacher or even you. Look for toys that spark your little one's imagination and help them enact those roles. Pretend play toys like kitchen set, beauty set and building toys are perfect for kids.
4. Musical Toys
Music can benefit your child in many areas, like brain development, social skills, language skills and fine motor skills. Invest in musical instruments for kids rather than a toy that requires no action from the child but to hear its sound. Musical toys like a mini drum or a xylophone or even hand bell for babies can improve their development and also encourage them to figure out their own tunes and sounds they like.
5. Messy Play
Messy play is very beneficial for a child's sensory development. This is where your child is in contact with their environment and exploring. If you'd like you could invest in kinetic sands, paint and play kits, clay, etc to make their play time more interesting but, things at home could also result in a gala time like, sand, rocks, ropes, water, paint, etc. Basically, materials with different textures. 
These toys will always be in style. How? There are toys that our kids play with for two days and never touch again. These types of toys on the other hand will grow with your little one and at the same time build new skills during each play.