Toys That Teach Important Life Skills
Posted on October 08 2021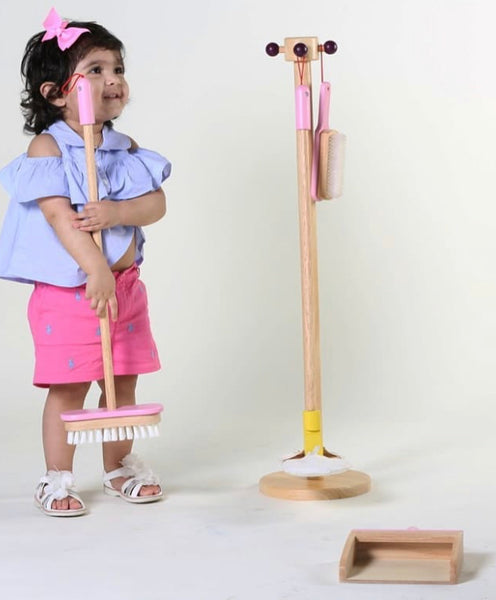 Life skills are values that will help our little ones throughout their lives. Usually, kids aren't taught to deal with real world problems or day-to-day tasks until they're in high school. But, why wait till high school? Kids are most attentive and grasp on things much faster when little and as experts say, teachings in the first five years of a child's life, stay with them throughout their life. 
Kids are never too young to learn about decision making or health and hygiene. We can teach them decision making with little things like choosing between a red shirt or a blue shirt, chocolate or biscuits, etc. It is also very important to teach our little ones to keep the places around them clean as well. We often miss out on teaching them how to clean because they're little or too young. Being Messy is fun and also beneficial at some point but, it is also important to know how to clean the mess. Kids are very impressionable when young, you can see them imitate you during house chores or while they're having a pretend play session. Therefore, to make this more fun and a little easy ;) here are a few toys that will help build these life skills in your little ones:
Spic and Span Set
This is a mini cleaning set kit for our mini people. It's difficult for kids to use the big brooms and mops and there are chances of getting hurt as well. Therefore, a mini wooden cleaning set perfectly sized for toddlers with a compact stand to store. Little ones' love for cleaning can now be executed in a safe yet fun way
Clothes Drying Line
For their love for doing laundry and drying their clothes. Clothes Drying Line is a foldable, easy to store stand. Kids can dry their own clothes on it. It is sturdy and strong enough to hold the weight of the clothes. Mommies can also use it for drying clothes on a rainy day
Ironing Board Set
A great toy for little ones to learn how to fold their clothes. It is a perfectly sized iron table for toddlers with a wooden iron that can be used during pretend play. Play while folding clothes. Clearly a win win!
Portable Workbench
A workbench for our little builders and fixers. Kids love helping out in the house "mommy let me fix that". Well, now they can do that at their own little working station. The Workbench comes with a wooden tool kit, nuts and bolt with smooth edges. Completely child safe
Mini Kitchen Set
Kids are never too young to learn how to prepare a small meal for themselves. Playing kitchen is probably one of the oldest games, we used to play it and now our kids do too. Mini Kitchen Set is a mini kitchen counter for little ones with a stove, oven, wooden spatulas, pot, pan, oven mittens and a wooden egg. Kids can play to be chefs and learn about the kitchen items and meal prepping.