Ingenious ways of using Quantum Cards
Posted on January 23 2017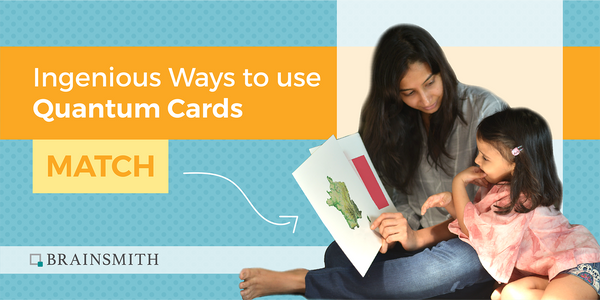 We'd like to start an interactive series with you where we can exchange ideas for different ways of using Quantum Cards.
Kids need constant innovation on our part to keep their minds engaged and keep them interested. If your kid is bored with the traditional way of using Quantum Cards, then you can reinvent the wheel and come up with some ingenious ideas of learning with Quantum Cards.
To get you started, we've come up with something we like to call 'Match the following.'
Here's what you have to do:
Take different sets of cards (you can start with two initially) and find the common angle in them e.g. countries and flags; inventors and countries; Indian Monuments and States of India.
Next you can spread the sets on the floor and ask your child to match the right country and flag or you can also show the cards to her one by one and again ask her to match the right card corresponding to the one in your hand.
For e.g. let's take National Flags Set 1 and the Quantum Cards Set- Countries.
Brazil- National Flag Of Brazil
China- National Flag Of China
France- National Flag Of France
India- National Flag Of India
Italy- National Flag Of Italy
Japan- National Flag Of Japan
South Africa- National Flag Of South Africa
Spain- National Flag Of Spain
United Kingdom- National Flag Of United Kingdom
United States- National Flag Of United States
You can do a similar exercise with other sets as well:
Match the country with its inventor e.g. Graham Bell is from Scotland
Match a monument to its country e.g. The Sphinx is an Egyptian landmark
And so on….
Not only will these inventive ideas add fun and break the monotony in learning facts for your child, they will go on to serve as a good learning progression for her.
We will keep sharing more ways of using the cards in subsequent weeks and keenly look forward to hear of your fun experiences and ideas, as well.   :)