Indoor Activities for children on a Rainy Day
Posted on July 18 2017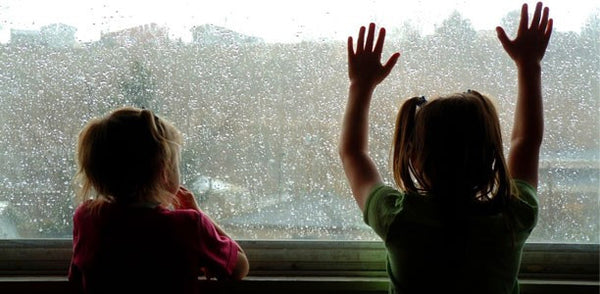 Rain Rain, Go away, Come again another day – we've hummed this nursery rhyme a zillion times but of course, rains don't just go away like this. Instead of being glum and irritable, you and your little one can make the most of those rainy days that keep you house-bound. No one likes being indoors, especially not our children and that can leave them feeling restless. Fret not! We've got a list of some fun indoor activities to do on a rainy day. Prove to your little one(s) that being indoors isn't the worst thing – they can have a ball and learn something new!
Build a fort


Image Source : Pinterest
Monsoon is the time for cosy chairs and comfy cuddles. You and your little one(s) need to build a fort out of blankets and pillows, decorate it with some lights and plonk inside with some colouring and reading books. Let the rain pitter-patter on your windows and sip on some hot chocolate while sharing smiles and giggles with your babies!
Fruit art


Image Source : POPSugar Photography
This one's a more creative one and involves your little one(s) getting colour all over themselves. But what's childhood without a little fun and mischief?! Grab some fruits in any form, paint and art paper and let your little Michelangelo come to the forefront. Just make sure none of this goes into the little one's mouth once they're done creating their masterpieces.
Dance Party


Image Source : Thinkstock
The rains create the mood for almost everything indoors! Put on your little one(s) favourite music and get your groove on. You and your baby can actually dance like no one's watching and get rid of all inhibitions. Set up a camera to capture these moments and watch them to relive some fun memories and cherish them. Let your little one(s) be the DJ and give small prizes for their originality and funky dance moves!
Write Letters


Image Source : flickr user woodleywonderworks
In these technology-driven times, we absolutely believe that letters are the best form of communication. And what better time to get in touch with family, friends or relatives, than now! Encourage your little ones to write letters to their friends or family members they are fond of! This activity is not just to spend time with your little one(s) but will actually teach your children to stay in touch with people who matter. Maybe they can write letters to their role models! Who knows, they may just get to meet them.
Organize a treasure hunt


Image Source : Shutterstock
You know you're going to be inside for quite a while, courtesy the rains! So why not make use of that time and introduce some adventure to your little one(s)! Organize and execute a treasure hunt with your little one that involves all the hiding places of your house and their favourite toys. Reward your little one with treasure for completing the task and helping you with the planning.
Get crafty


Image Source : sheknows
Maybe this will be the only time your little one(s) will want to sit at home with you, albeit restless. It's time for the little one to stop being restless and getting their craft on. You can choose what they would like to make or redecorate – a collage of pictures, using newspaper to do some decoupage, a DIY photo frame for their rooms or a recycle project. These options are endless and there is ample time. Who knows when the rain gods will say enough!
Board Game Marathon


Image Source : ebay
We don't believe in movie marathons or video games on such lovely rainy days. Get your hands on those classic board games that you and your little ones can play together, put on your competitive hats and get your A-game on to have fun the old-school way! Trust us, your little ones will want a rainy day after this all the time!
Sweet time
It's time for some cookies and cakes and what better way to make them than with your little one(s)! You can choose to create your own recipe, get one from Google or let your little one come up with a recipe for what they want. You can help them make their first ever original dessert and devour it whole.
We imagined you and your babies doing these activities and having the time of your lives and that made us super happy! We can't wait to hear from you after trying some or all of these activities. After all, rains make for a great time for your little one!
Main Image Source: Active for Life