TRICK OR TREAT WITH YOUR LITTLE MONSTERS!
Posted on October 27 2017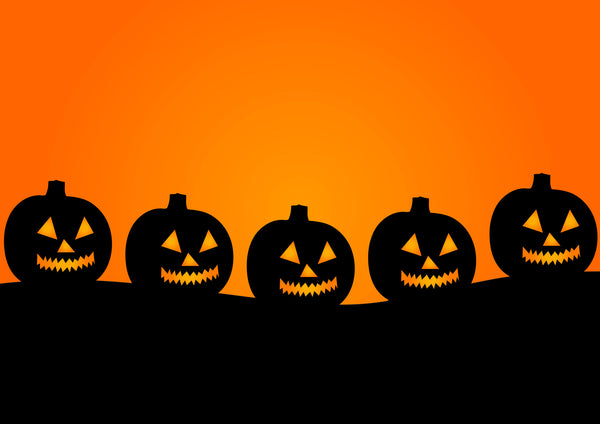 Spooky theme parties, bowlfuls of candy, and funny faces carved out of bright orange pumpkins... ready or not, Halloween's here!!!
Halloween has become a favourite festival of adults and kids alike, in recent years. According to Celtic tradition, Halloween - originally known as "All Hallows Feast" - is the time when spirits of the dead visit the living on Earth.
From being a day dedicated to remembering the dead and a truly American holiday, Halloween has come a long way. Today, it's one of the coolest events where people around the world host Halloween parties, dress up in crazy costumes, and do trick or treating. It's a day of fun with family and friends!
As kids growing up in today's era, your little ones have surely heard or will soon hear about Halloween. This is a generation that is far ahead of its times! Sure, it's popular as the "sugar-filled spooky festival" in the USA. But how can we celebrate Halloween here with our own little monsters?
We, at Brainsmith, have some fun tips – do them all or try any one. You're sure to have a spooktacular Halloween!!!
PARTY

Well, this one's a no-brainer. We often tend to wait for our kids to be invited to such parties. Twist things around a bit this year, and throw an intimate, fun party at your house. You honestly do not need too many things and the kids will completely have a ball!
Invite all the kiddos in your building/community or from your child's school, and ask them to dress up in any costume (there's no use putting any restrictions on a costume theme; let them be as free or crazy as they want to be).
Your child's Halloween party could be big or small. It could even be a family party, and adults and kids can together have a blast. Read on for more tips on what you can do to make this party even more exciting.
WEAR

So many stores selling Halloween costumes and decorations have cropped up in every major city. It's fun to walk through aisles filled with devil themed headbands and pitchforks, fake eyeballs, life-like spiders, skull shaped decor, and ridiculous horror face masks that would totally spruce up any party.
But why not create memories with your kids in a more Do It Yourself fashion? Put on your thinking caps and craft their dresses or props from scratch. With a pinch of creativity and tons of crazy imagination, you'd be sure to win the "Coolest Mom/Dad of the Year" award from your little one!
Whether you're attending a Halloween party or simply celebrating the festival at home with your little ones, making and wearing a fun costume is a great way to get into the Halloween mood. Here are some ideas for characters that your kids can dress up as, that are not tricky but definitely a treat!

Harry Potter: Yes, we know you're probably a bigger fan of this J K Rowling creation, than the kids in your home. After all, who can blame you? Harry Potter or any of the supporting characters will be an easy choice for playing dress up. Throw on a woollen muffler and vest, add that pair of nerd glasses, draw a cute lightening scar and your lil' Potter is ready to fly!
Elvis Presley: You can pick your favourite (child-friendly) music genius or you can create a look for any other musician. How? With a toy musical instrument, dark glasses, a fake microphone, and a jazzy pant/skirt outfit. And of course, with the right attitude, your little one could pass off as a real rock star ;-)
Bumblebee: We may run really far from a real one, but how cute will your child look in a home-made bumblebee outfit? Give him/her a small jar of honey to carry around...and voila! To make the bumblebee outfit on your own, we found this one you could use.
Ghost: If you want the cutest little ghouls running around your home, create this awesome ghost outfit. It needs no stitching or any fancy skills, we promise! Here is an easy peasy method.
DECORATE

We're big fans of DIY and home-crafted wonders. It encourages kids to be creative, keeps them entertained/occupied for hours, and brings out your artistic skills too! It's probably easy to get Halloween themed home décor or props from a store. But you could save some money and make some of it yourself too. If you're feeling adventurous, we have some easy to make and fun to look at props right here.
EAT

Serving boring party food on Halloween? We think not! There are simple ways to put a spin on the snacks you would normally put out, and yet keep them well within the theme: to scare your little guests off! For soft drinks, you could opt for juices or squashes that are a deep red colour. Think Roohafza, cranberry or pomegranate juice! Imagine serving your little ghosts and goblins "blood in a glass"? Yikes! If you're quite the whiz in the kitchen, you may find these mocktail recipes fabulous to make  
When it comes to serving food at a Halloween-themed get-together, think dark, think black, think yucky! If you need some recipes to start you up on this frightening food journey, here you go:
Halloween Devilled Eggs: Boiled eggs are a staple in most homes… this little twist on the recipe is so simple to make with ingredients you will most likely find in your kitchen. You can get some ideas from here.
Chocolate Mint Halloween Spiders: Well, who can say no to chocolate? Err, even if they're little spiders! Yours can be a spin off from this one!
PLAY

Pumpkin Decorating
Since carving the pumpkin would be too advanced for children, without adult supervision, simplify the game by decorating the pumpkin instead. Divide the children/guests into small groups. Each group gets 1 pumpkin and Black + Colourful Markers, which they can use to draw and paint the pumpkin. Older kids can be asked to give some personality to their pumpkin; for example, a pirate pumpkin with an eye patch or a joker pumpkin with a pointy hat and red round nose. Smaller kids can be helped by the adults around if needed.
Halloween Statue
A spooky take on London Statue, the game in which kids have to stop dancing and stay frozen as soon as the music being played is stopped - With their elaborate costumes and looks, it won't be too long before a few kids burst out laughing or feel an itch coming up that they absolutely need to scratch!
Passing the Pumpkin
Another twist on an old favourite of "Passing the Parcel". Kids pass around a small pumpkin and if they're caught holding the pumpkin when the music stops, then they're out or given a small task to do such as sing a song, say a rhyme, or enact a small dialogue.
Slime Fest
Slime has become a crazily popular activity in the past few months. Kids everywhere enjoy getting their fingers into this gooey material. Start a slime fest, and let the kids get icky and sticky with their imagination!
COLOUR
 
Whether as a party activity or as a one-on-one session with your child, Halloween themed colouring would be a perfect way to unwind. Simply take black and white printouts on A4 paper beforehand, and keep some colouring pencils or crayons nearby. Make sure to join your little ones in this fun activity!
Here are some super useful sites that actually give you free printable colouring pages that you can print up at home.
WATCH
Here's an extremely cute and interesting storytelling of an illustrated book about a cute little pumpkin named Spookley, who's square shaped instead of round. This story, apart from being ideal for Halloween, will definitely show your little ones a thing or two about being different and embracing it!
Spookley The Square Pumpkin
We're pretty excited after listing down all these fun Halloween activities for your kids to indulge in. So we too are going to go and try some of them (we all have that inner child, right?). And don't forget to keep the Halloween motto flying high: EAT, DRINK & BE SCARY!
Author: Sneha Bhat
About: Sneha is an independent writer and book editor who loves good food, good design and a fantastic cup of tea. When she's not telling stories, she enjoys yoga and reading.