Affordable Rakhi Gifts for Toddlers
Posted on August 16 2021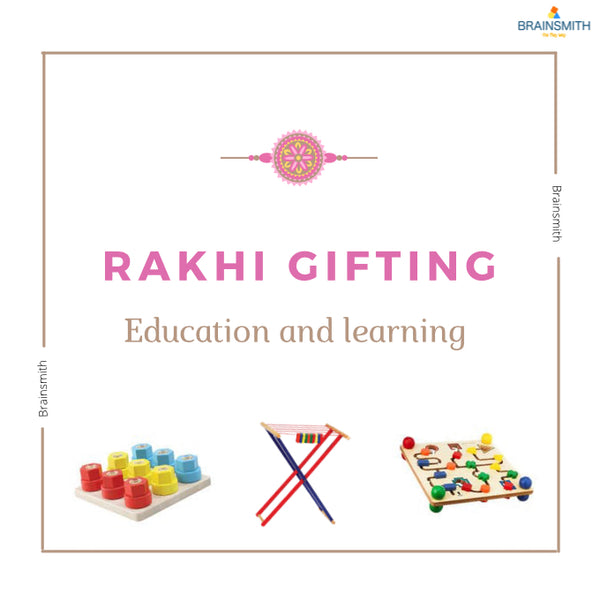 It's that time of the year where one of the most special bonds is celebrated, Raksha Bandhan. The bond between a brother and a sister is like no other. It's a sacred bond of protective responsibility and care. This auspicious festival is celebrated to honour the relationship between siblings. The Special bond that brothers and sisters share cannot be compared to any other bond in the world. We play, we joke, we hide each other's secrets and mostly fight all the time but, at the end of the day, our brothers/sisters are the ones who have our backs no matter what the situation. Having a sibling is like living together with your BFF. It's never easy, trouble guaranteed but fun unlimited.
Our little ones might be celebrating their first raksha bandhan with their sibling or second or third.. No matter the number, it's always special and heart melting when we see our little ones in their tiny traditional outfits celebrating this joyous occasion.
Why not make this Raksha Bandhan extra special by gifting our little ones something they'd have a gala time with and learn important skills while at it? We believe in learning through play and our toys are designed in such a way that they ensure a fun time but also improve your little ones skills like: Fine motor skills, brain development, hand eye coordination, build focus, etc
Here are a few gifting ideas for this raksha bandhan that parents loved:
1. Mini Drum Set
This wooden Mini Drum Set for toddlers and kids has realistic sound and functions and will be a great addition in the collection of out little musicians. It will build fine motor skills and also encourages imaginative play! 
2. Ted's senses
If your little one is a curious reader, then Ted's senses, a set of five story books is the perfect gift! Little Ted and his friends - The Ear, Eye, Nose, Skin and Tongue want to take your little one into their world and share all the wonderful things they do for Ted. A fun way to add to your child's knowledge. 
3. Kid's Ironing Set
Kid's ironing set is a great example for montessori learning. We know that kids love helping us in our daily chores. Now they can take part more conveniently and help us in folding clothes and at the same time learn important life skills and independence. 
4. Ice-Cream Parlour
Ice-Cream, You Scream, We all Scream! Who doesn't love a good ice cream in summers? A mini wooden ice-cream parlour toy set for our mini people. They can sell different varieties and create new ones. There really is no limit to imaginative play! 
5. Paint and Play Kit
Sometimes messy play is good, don't you think? A DIY paint and play kit for children could be a great gift for the little one to paint their very own aeroplane and take off. 
There are numerous things you can gift a toddler, it can be solely education and learning based, musical based for our little music lovers or toys that they can play with their siblings and have fun.